In Memory
George Fritz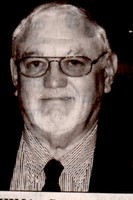 George M. Fritz, 72, of Yakima, passed away on Monday April 7, 2014. George worked as a manager for UPS in Yakima for 30 years. He enjoyed several hobbies including coaching Grid Kids football, CYO basketball and baseball which brought a great joy to him. George had an open heart and his home was a place to gather for many friends and family.
George, with his wife, Joan, looked forward to trips by motor home to Poulson, Montana and their winter months in California. He was a member of the V.F.W. and the Elks, and was a proud blood donor.
George is survived by his wife Joan Fritz of Yakima; son Tony (Cindy) Fritz of Yakima and a sister, Peggy Solak of Auburn, WA.
Donations in George's honor can be made payable to St. Jude Children's Research Hospital, Cottage In The Meadow, North Star Lodge, or The George Fritz Scholarship fund in conjunction with Basketball Development School, in care of Brookside Funeral Home, PO Box 1267, Moxee, WA 98936.
A Memorial Mass will be held 10:00 a.m. on Tuesday, April 15, 2014, at Holy Family Catholic Church with inurnment at Calvary Cemetery. A reception will follow around noon at the Church gathering hall.