In Memory
Pat Lewis (Knudtson)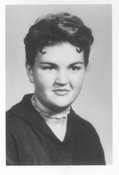 Patricia Ann Lewis Knudtson

July 2, 1942 - March 5, 2011
Patricia Ann Lewis Knudtson, age 67 of Bonney Lake, Washington passed away March 5, 2011, with family by her side.
Patricia was born July 2, 1942 at Providence Hospital in Seattle, WA to Betty and Robert Lewis. Pat grew up with a sister, Nancy Roesch, and a brother Robert Lewis. She lived most of her lifetime in Auburn, WA. As a child she took tap dancing lessons, learned to twirl the baton and also played the electric steel guitar. She attended Terminal Park Elementary, Olympic Jr. High and graduated from Auburn High School in 1960.
In 1957 she was initiated into the International Order of Job's Daughters, in Auburn, Washington. On May 1960 she was then elected and installed as an Honored Queen in Job's Daughters. Later, she was elected Guardian as an adult advisor and chaperone for the organization.
In 1958 at a Youth Organization dance she met the love of her life, Floyd. They dated, fell in love and were married on September 9 1961 at Messiah Lutheran Church. They had two children, Karin Norton and Kevin Knudtson. She has two grandchildren, Colton and Emily Knudtson who were the lights of her life. Pat and Floyd were married 45 years and Floyd passed away August 2006.
Over the years she held many jobs, a telephone operator in Fairbanks, Alaska; ran the elevator at The Bon Marche in Seattle, babysat, cleaned houses, a Lunds Lite candle consultant, started her own business as a wedding coordinator, took pictures as Santa's helper, worked as a Creative Memories Consultant and was always a stay at home mom. Her favorite hobbies include fishing, camping, swimming, sewing, cooking, baking, scrapbooking, gardening, knitting, crocheting, embroidering, and card making. She was actively involved as a Girl Scout Leader and PTA president.
After Floyd passed away, Pat stayed busy lunching with her high school girlfriends, chasing her dog Chloe around, playing with her grandkids, and became very involved in the The Red Hat Society - Glitzy Chicks, Auburn Chapter. Pat loved her Red Hat gals and all their crazy parties. Her life was full of love, family and friends. Pat loved caring for people and we are sad to let her go, but as her grandson Colton said, "Mom, I'm not sad for grandma. She is up in heaven with papa Floyd, Cody and I think Jesus might be there too. Besides, in heaven she can breathe."
P