In Memory
Jim Thomas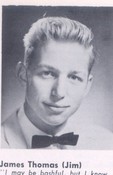 Jim Thomas passed away on Friday, September 2, 2011.
Jim waged a courageous battle with Leukemia the past several years, but unfortunately the new drugs and bone marrow transplant were not enough to overcome his strain of the disease.
Jim's Obituary as shown in the Tacoma New Tribune on 9/20/2011:
JAMES THOMAS
James Joseph Thomas Jim Thomas was born June 11, 1942. He passed away peacefully in the company of his family on September 2, 2011 at his home in Lake Tapps, WA. He is survived by his wife of 45 years, Patti; his son Tim and grandson Benjamin of Seattle; his son Fred and his wife Ariel, and granddaughter Margarita of Seattle; and daughter Colleen and her husband Floyd Reitsma, and two grandchildren, Peter and Lola of Renton. Jim served as a firefighter for the City of Auburn for twelve years, and finished his professional life in heavy construction, where he enjoyed a long career with NW Cascade of Puyallup, retiring in 2008. The Funeral Mass will be held on Saturday, October 1, 2011, at 11 a.m. at Holy Family Parish, 505 17th ST SE, Auburn, WA, officiated by Fr. Phoung Hoang. A Rosary will be offered at 10:15 a.m. with reception to follow in the Parish hall. Interment ceremony will be held at a later date. A celebration of Jim's life will be offered on Saturday, September 24, 2011 at the family home. All who knew Jim are welcome.